Bienvenue Au Vialaou
Chalet's History
My grandfather François built the "Vialaou" in 1920.
The chalet had a room for drying hams and sausage meat and a stone oven to cook bread and pies.
This room was also used as sleeping quarters for soldiers during the war.
He would be proud to see new life in his house which we have entirely renovated in wood and stone in a cosy alpine atmosphere.
You will be charmed by chalet "Au Vialaou" situated in an authentic alpine village surrounded by magnificent scenery.
It will be a pleasure to meet you.
Chalet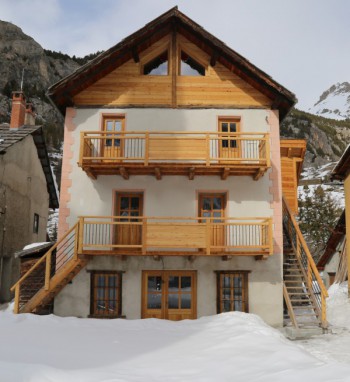 « Au Vialaou » is a charming chalet situated in the centre of Névache close to the 15th century church and a delicious bakery.
Quick and easy access to the mountains, only 50 metres to the GR hiking trail and numerous mountain activites
to suit the sportive and the non sportive.
Constructed of a traditional mix of stone and local wood, "larch" (le mélèze), the chalet is full of character and you will feel the warm and authentic atmosphere typical in small mountain homes.
Recently renovated, the chalet has kept all its character with all the comfort and the modernity you need.
The village, the valley, the atmosphere won't leave you in different.
Welcome to "AU VIALAOU"
Marlène and Mitch.